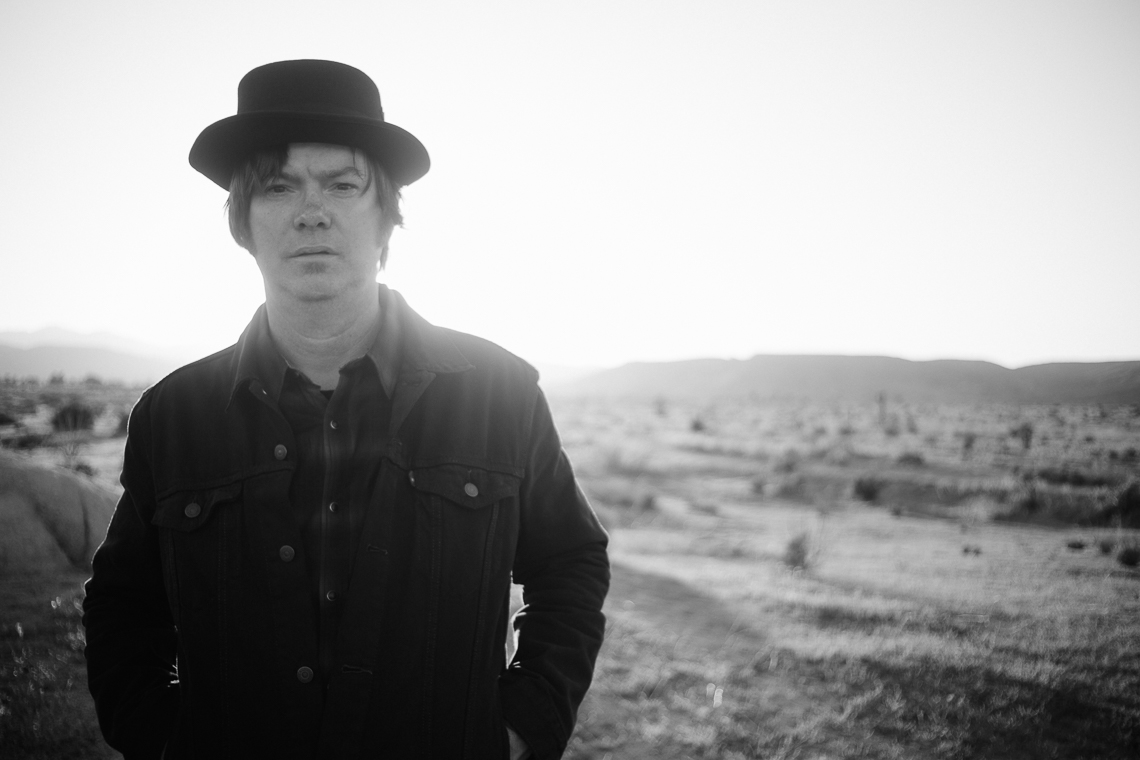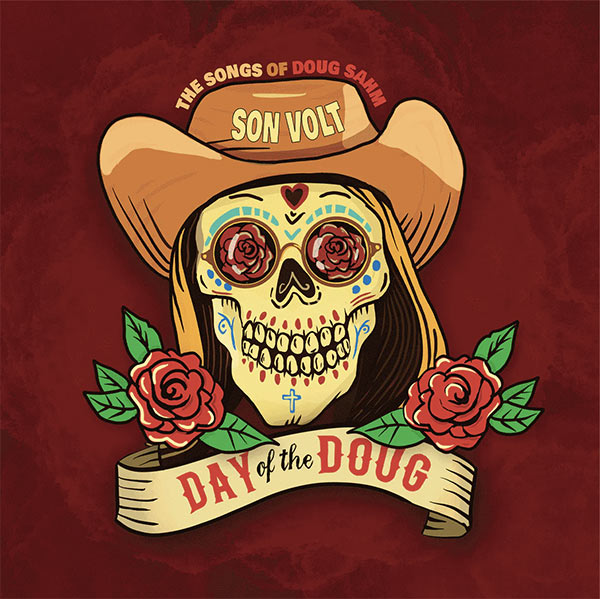 SINGLE "SOMETIMES YOU'VE GOT TO STOP CHASING RAINBOWS" FROM 'DAY OF THE DOUG' OUT NOW
Son Volt has released the first single off of 'Day of the Doug' available at your favorite digital retailer. 'Day of the Doug' in its entirety will be released June 16th! Pre-Order vinyl, cd or digital direct from the Son Volt Store!
SON VOLT STORE
---
---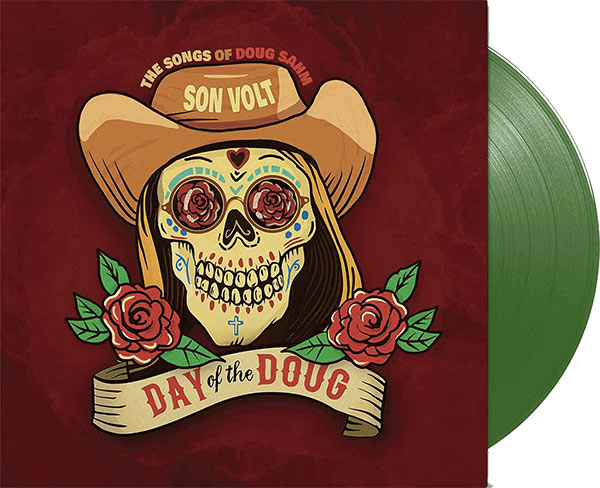 'DAY OF THE DOUG' TO BE RELEASED ON RECORD STORE DAY
Son Volt's Day of the Doug will be available exclusively at participating record stores starting April 22, 2023 as part of Record Store Day.
A tribute to Doug Sahm, Day of the Doug features 12 songs that span Sahm's career as a solo artist as well as his work with Sir Douglas Quintet and Texas Tornados. The Intro and Outro tracks are phone messages that Doug left Jay over the years. Pressed on RSD-exclusive Opaque Green Vinyl. Only 1700 copies pressed! Find stores and more information here:
VISIT RECORDSTOREDAY.COM
---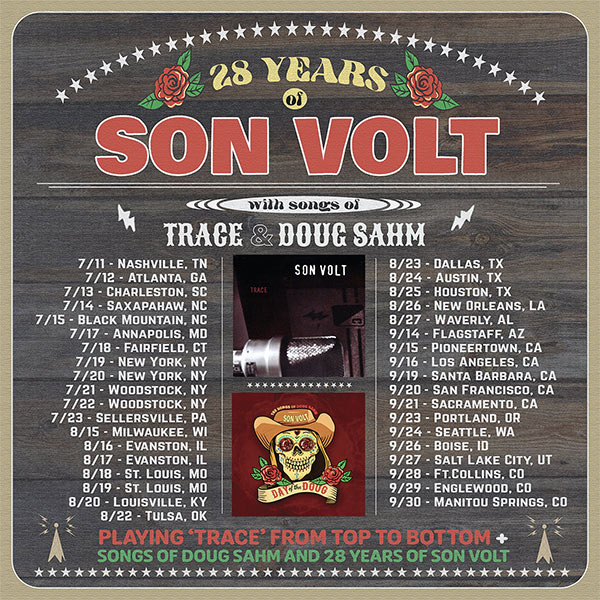 28 YEARS OF SON VOLT TOUR THIS SUMMER WITH TRACE + DOUG SAHM SONGS
In 2020, Son Volt planned to celebrate the 25th anniversary of Trace with a tour that played the album from top to bottom. The pandemic had other plans. Flash forward to 2023 and they are on the road with a setlist that features Trace from beginning to end, an homage to Doug Sahm and a celebration of 28 years of Son Volt. Tour dates can be found on Son Volt's web site.
TOUR DATES
---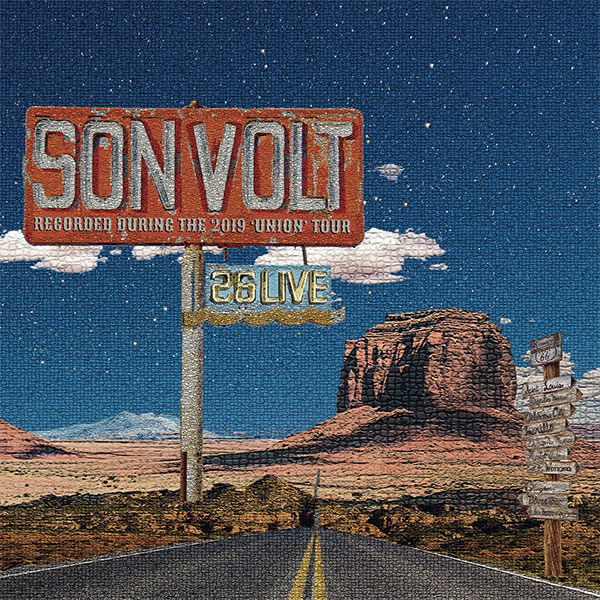 SON VOLT's 26Live ON DOUBLE CD FOR SALE IN WEBSTORE
Recorded during Son Volt's 2019 Union tour, these live songs include selections from Son Volt's Trace, Straightaways, Wide Swing Tremolo, Okemah & the Melody of Riot, The Search, Honky Tonk, Notes of Blue, and Union; covers of tracks from Uncle Tupelo and The Rolling Stones; plus a couple of songs from Jay's side project, Gob Iron. 26 songs and over an hour and 40 minutes of music availiable on double-CD and high resolution download exclusively at Son Volt's Store.
SON VOLT STORE
---
UPCOMING TOUR DATES
Date
City
Venue
06/18/23
Three Oaks, MI
TICKETS
The Acorn Music Festival
07/11/23
Nashville, TN
TICKETS
Basement East
Peter Bruntnell opens
07/12/23
Atlanta, GA
TICKETS
Variety Music Hall
Peter Bruntnell opens
07/13/23
Charleston, SC
TICKETS
Charleston Pour House
Peter Bruntnell opens
07/14/23
Saxapahaw, NC
TICKETS
Haw River Ballroomy
Peter Bruntnell opens
07/15/23
Black Mountain, NC
TICKETS
Pisgah Brewing Company
Peter Bruntnell opens
07/17/23
Annapolis, MD
TICKETS
Ram's Head On Stage
Peter Bruntnell opens
07/18/23
Fairfield, CT
TICKETS
The Warehouse
Peter Bruntnell opens
07/19/23
New York, NY
TICKETS
City Winery
Peter Bruntnell opens
07/20/23
New York, NY
TICKETS
City Winery
Peter Bruntnell opens
07/21/23
Woodstock, NY
TICKETS
Levon Helm Studios
Peter Bruntnell opens
07/22/23
Woodstock, NY
TICKETS
Levon Helm Studios
Peter Bruntnell opens
07/23/23
Sellersville, PA
TICKETS
Sellersville Theater
Peter Bruntnell opens
07/24/23
Elkton, MD
TICKETS
Elkton Music Hall
Peter Bruntnell opens
Artist presale 4/26 until 9 am ET on 4/28
code word: TRACE
Public onside 4/28 – 10 am ET
08/15/23
Milwaukee, WI
TICKETS
Turner Hall Ballroom
Anders Parker opens
08/16/23
Evanston, IL
TICKETS
SPACE
Anders Parker opens
08/17/23
Evanston, IL
TICKETS
SPACE
Anders Parker opens
08/18/23
St. Louis, MO
TICKETS
Delmar Music Hall
Anders Parker opens
08/19/23
St. Louis, MO
TICKETS
Delmar Music Hall
Anders Parker opens
08/20/23
Louisville, KY
TICKETS
Headliners
Anders Parker opens
08/22/23
Tulsa, OK
TICKETS
The Vanguard
Anders Parker opens
08/23/23
Dallas, TX
TICKETS
Kessler Theater
Anders Parker opens
08/24/23
Austin, TX
TICKETS
Scoot Inn
Anders Parker opens
08/25/23
Houston, TX
TICKETS
The Heights Theater
Anders Parker opens
08/26/23
New Orleans, LA
TICKETS
Tipitina's
Anders Parker opens
08/27/23
Waverly, AL
TICKETS
Standard Deluxe
Anders Parker opens
09/14/23
Flagstaff, AZ
TICKETS
The Orpheum Theater
Peter Bruntnell opens
09/15/23
Pioneertown, CA
TICKETS
Pappy & Harriet's
Peter Bruntnell opens
09/16/23
LA (Highland Park), CA
TICKETS
Lodge Room
Peter Bruntnell opens
09/19/23
Santa Barbara, CA
TICKETS
SOhO Restaurant & Music Club
Peter Bruntnell opens
09/20/23
San Francisco, CA
TICKETS
The Chapel
Peter Bruntnell opens
09/21/23
Sacramento, CA
TICKETS
Harlow's
Peter Bruntnell opens
09/23/23
Portland, OR
TICKETS
Aladdin Theater
Peter Bruntnell opens
09/24/23
Seattle, WA
TICKETS
Neumos
Peter Bruntnell opens
09/26/23
Boise, ID
TICKETS
The Olympic Venue
Peter Bruntnell opens
09/27/23
Salt Lake City, UT
TICKETS
The State Room
Peter Bruntnell opens
09/28/23
Fort Collins, CO
TICKETS
Washington's
Peter Bruntnell opens
09/29/23
Englewood, CO
TICKETS
Gothic Theatre
Peter Bruntnell opens
09/30/23
Manitou Springs, CO
TICKETS
Lulu's Downstairs
Peter Bruntnell opens