Sebastopol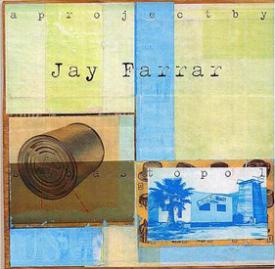 1. Feel Free
2. Clear Day Thunder
3. Voodoo Candle
4. Barstow
5. Damn Shame
6. Damaged Son
7. Prelude (Make It Alright)
8. Dead Promises
9. Feed Kill Chain
10. Make It Alright
11. Fortissimo Wah
12. Drain
13. Different Eyes
14. Outside the Door
15. Equilibrium
16. Direction
17. Vitamins
Jay Farrar
vocals, acoustic guitar, acoustic baritone guitar, electric guitar, piano,
Roland keyboard, tambura
with guests:
Jon Wurster (Superchunk): drums, percussion (1,3,7,10,11)
Tom Ray: bass (1, 2, 3, 4, 5, 6, 9, 10, 11, 12, 13, 14)
Matt Pence: drums, percussion (2,4,5,9,13,14)
Steve Drozd (Flaming Lips): piano, Roland and Ensoniq keyboards, melodica,
backing vocal (1,2,3,6,9,10)
Gillian Welch: Vocal (4)
David Rawlings: Acoustic Guitar, Lap Steel (4)
Dade Farrar: Bowed Stand Up Bass (6)
John Agnello: Electric Guitar, Percussion (7)
Lou Winer: Sax (13)
Kelly Joe Phelps: Slide Guitar (12)
All songs by Jay Farrar
(©2001 Grain Elevator Songs/BMI/Administered by Bug Music)
Produced By Jay Farrar & John Agnello
Recorded at Jajouka Studio, Millstadt, IL
April - June 2000
Artwork/Photography by Jim Ward Morris (doublemranch)
"How does the city in Northern California become the title
of a collection of songs? The short answer is that I just liked the sound
of it, I guess. Maybe that's also the answer for why one gets involved in
music where the subjective scene hypes, denigrates, glorifies, destroys,
chews and spits with relentless rapidity, but where an ultimate sense of
purpose is still found.
Yep, but it all starts with the songs. Most of these songs
were written in a slack key or alternate tunings that I either looked up
or made up. Using alternate tunings seems to clear one's head and focus one's
brain when writing. I also learned to embrace some instrumentation that I
had previously eschewed. There is a liberation of sorts in doing that."
- Jay Farrar