OKEMAH AND THE MELODY OF RIOT DELUXE EDITION OUT NOW ON DIGITAL, CD & VINYL!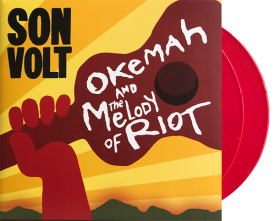 Originally released in 2005 (and never before on vinyl) during the Bush Administration, many of the songs speak to the political agitations of the time while also looking to the past with references to 1940's political folkie Woody Guthrie. The album's title is a nod to Guthrie's hometown of Okemah, OK.
Mark Demming of AllMusic says 'Okemah and the Melody of Riot' is a compelling, strongly focused work that stands as Farrar's best music since Son Volt's debut album, 1994's 'Trace'. While Farrar's songwriting is still in his usual enigmatic mode on 'Okemah', there is a noticeably stronger lyrical focus here, especially on the (apparently) anti-Bush screeds "Jet Pilot" and "Ipecac" and the rabble-rousing opening cut, "Bandages & Scars"; Farrar obviously has something to say about the state of post-millennial America, and if the letter of the message is vague, the passion of his delivery speaks volumes."
'Okemah And The Melody Of Riot' is re-released August 31, 2018 in deluxe format with bonus content incuding unreleased studio recordings and live versions of album tracks available digitally, in double-cd, and limited double lp pressed on opaque red vinyl (only 2000 copies pressed)!
Disc One 1. Bandages & Scars 2. Afterglow 61 3. Jet Pilot 4. Atmosphere 5. Ipecac 6. Who 7. Endless War 8. Medication 9. String Belief 10. Gramophone 11. Chaos Streams 12. World Waits For You 13. World Waits For You (reprise)

Disc Two 14. Exurbia (non-album track) 15. Joe Citizen Blues (studio) 15. Anacostia (non-album track) 16. Afterglow 61 (live) 17. Gramophone (live) 18. Ipecac (live) 19. Bandages & Scars (live) 20. Atmosphere (live) 21. Medication (live)