The Search Deluxe + Ballymena EP Now Available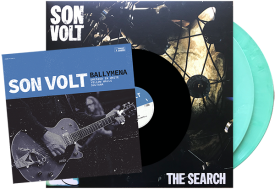 Son Volt's "The Search" which has been out-of-print has been reissued on Deluxe, CD, digital and vinyl! This deluxe reissue mirrors the vinyl-only release of "On Chant and Strum" and features all 22 tracks on all formats. The double-LP is pressed on limited opaque sea foam green vinyl.
Also available is the Record Store Day release, the Ballymena EP on 10-inch vinyl and unludes unreleased tracks from 'Notes of Blue' and an alternate take from 'American Central Dust'. Only 1500 pressed!